Banda Sinfònica Juvenil "Simón Bolivar" (Venezuela)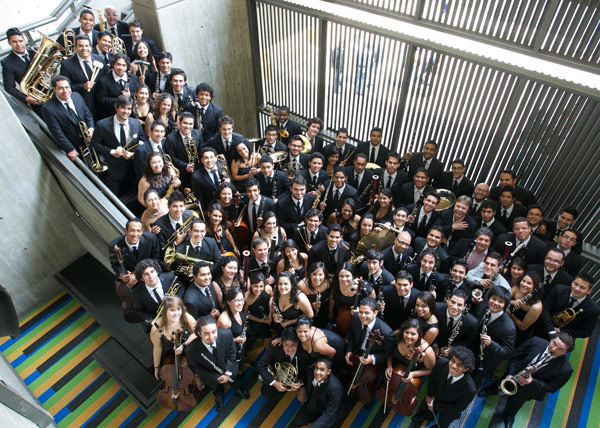 HISTORY OF THE BAND



The Simón Bolívar Youth Symphony Band of Venezuela was formed in 2005 as part of the National System of Youth and Children's Orchestras and Choirs of Venezuela and the Simón Bolívar Conservatory of Music. It is an example of musical excellence, resolve and dedication, which in just 7 years has managed to establish itself as one of the greatest exponents of the Venezuelan musical system, as well as becoming the foremost symphony band in the country and one of the best in all of Latin America.

The National System of Youth and Children's Orchestras and Choirs of Venezuela is a social and cultural program run by the Venezuelan government which was founded by maestro José Antonio Abreu in 1975 to systemize music education and promote the collective practice of music through symphony orchestras and choirs as catalysts for social development; a model which demonstrates how a music education program can create great artists and change the lives of underprivileged children and young people. Today, El Sistema works with more than 400,000 students all over Venezuela. The program has also been imitated in more than 35 countries over 5 continents.

Since its debut, the Simón Bolívar Youth Symphony Band of Venezuela has undergone significant artistic growth and offered numerous concerts in the most important theaters and cultural venues in Venezuela. 2008 marked the beginning of a new stage in the band's development, when Sergio Rosales, a member of the brilliant generation of young Venezuelan conductors, was appointed as the ensemble's principal conductor, relieving maestro Jesús Ignacio Pérez Perazzo, its founding director.

In June 2012 the band completed a tour of various cities in Colombia which included performing in the opening concert of the 3rd Medellín International Music Summit for Bands, and in Bogotá.

In 2013 they have recorded their first CD of various works by Venezuelan and Latin American composers together with classical pieces.

They have been conducted by highly-prestigious international maestros who specialize in symphony bands including Thomas Clamor, Antonio Saiote, Eddy Vanoosthuyse, Ferrer Ferrán, Jan Van der Roost, Jonathan Cohler, Johan de Meij and Tim Reynish.




BIOGRAPHY OF THE CONDUCTOR




Ferrer Ferran

Ferrer Ferran graduated in Wind Orchestra Conducting and Composition from the London Royal School of Music. He is Professor of Composition at the Castellón Superior Conservatory of Music and a permanent member of the teaching staff at the Valencia Professional Conservatory of Music where he teaches Composition, Accompaniment and Orchestra. He is the Principal Conductor of the Paiporta "Primitiva" Band and the "Allegro" Wind Orchestra. He is also the Artistic Director of the Ciudad Real Provincial Symphonic Band and the main teacher of the "Corso Biennale in Direzione di Banda" in Aosta (Italy). He divides his time between these activities and his work as a musician and as Director of the "Allegro" Music Center. He is Vice President of the Association of Valencian Symphonic Composers and a member of WASBE.

His first two symphonies, "Tormenta del Desierto" and "La Passió de Crist", established Ferrer Ferran's position as one of the best European composers of our times. His third and fourth symphonies, "The Great Spirit" and "El Coloso", have fulfilled all expectations, receiving high praise and awards from the critics worldwide, confirming Ferrer Ferran's status as a high-profile composer.

All his music has been recorded to CD. He has already recorded fourteen CDs which feature his works exclusively. His compositions have won close to twenty prizes in prestigious competitions all over the world.

Ferrer Ferran has been Principal Conductor of some of the most renowned bands in the Autonomous Region of Valencia. In his conducting career he has won more than twenty prizes and high praise and positive recognition from critics. As a guest conductor, he has directed bands all over Spain as well as in Germany, France, Belgium, Holland, Venezuela, Italy, Portugal, Greece and Argentina.


Sergio Rosales

Sergio Rosales is one of the foremost representatives of the new generation of orchestra conductors who have trained in the National System of Youth and Children's Orchestras of Venezuela under the watchful eye of maestro José Antonio Abreu.

He was born in Maracay and displayed a notable musical vocation from his early years, beginning his music studies at the age of 9.

In 1999 he entered, as a violinist, the National System of Youth and Children's Orchestras and Choirs of Venezuela.

When he was barely 16 years old he began studying orchestra conducting at the University Institute of Musical Studies (IUDEM) with Venezuelan maestros Alfredo Rugeles and Rodolfo Saglimbeni. He took classes with maestros Sung Kwak, Wolfgang Trommer, Collin Meters, Helmuth Rilling, Mario Benzecry, Miguel Ángel Monroy, Rubén Capriles and Francisco Noya, and attended the Canford Summer School of Music in the United Kingdom with maestros George Hurst, Denise Ham, Rodolfo Saglimbeni and Robert Houlihan.

From 2004 to 2008 he was assistant conductor of the Orquesta Sinfónica Municipal de Caracas and the Orquesta Gran Mariscal de Ayacucho. He also conducted the Simón Bolívar Youth Orchestra of Táchira state, Venezuela. In 2008 he was appointed principal conductor of the Simón Bolívar Youth Symphony Band (BSJSB).

In 2012 he participated as a conductor in the Festival de Juventudes Bancaribe, Venezuela. The same year he was the guest conductor of the Brussels Chamber Soloists in the Benelux Clarinet Competition and led the Simón Bolívar Youth Symphony Band of Venezuela in a concert tour of the cities of Medellín and Bogotá in Colombia.